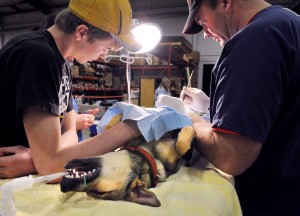 Michael Gallacher/Missoulian
Choteau veterinarian Craig Moore, right, and his son Christopher spay a young shepherd cross Saturday morning at the Westside Trailer Cat Day Spay and Neuter clinic in Missoula.
Denise Martinez Sickich and her family found a little gray, black-striped cat abandoned, starving and pregnant in an alley in the slant streets of Missoula several months ago. They took her in, fed her, renamed her "Alley" and a week after finding her, helped deliver her seven kittens. Despite the tender care, the kittens didn't survive.
It's stories like Alley's that Saturday's Westside Trailer Cat Day Spay and Neuter event aims to prevent.
Alley was sitting quietly in her carrier Saturday morning, one of dozens of cats and dogs at the Iron Works Manufacturing warehouse that had been converted into a spay and neuter clinic. Each animal was fixed for free.
Martinez Sickich brought Alley down just before noon. After about 45 minutes, a groggy Alley was ready to go back home.
The clinic was put on by the Montana Spay/Neuter Task Force and organized by a local committee of Westside residents who saw a need to help control the feral and stray cat population in the area.
"I used to live in the Hollywood Trailer Court and I would wake up and there'd be 15 cats out in my yard," event organizer Hannah Wilson said.
Wilson knows many neighbors see the cats as a nuisance. She sees them a little differently.
"How can they be a nuisance when they're not the ones who put themselves there?" Wilson said. "I just wanted to do my part and help out. It's a tough life for cats in the Hollywood trailer park."
Wilson, who still lives in the area, was proud to see the number of neighbors who took advantage of the clinic for their pets, and who helped volunteer to make the clinic run smoothly.
Traps were set Friday and checked throughout the day Saturday to catch the strays. Eleven surgeries were performed Friday night on feral cats caught that afternoon. After they were fixed, feral cats were kept overnight in the warehouse before being released. Some of the more tame strays were sent to the Human Society of Western Montana to be readied for adoption.
***
Several neighborhood residents brought dogs to be fixed as well. Organizers continued to reach out throughout the day, recruiting neighbors to bring in pets or help identify strays to be fixed.
Veterinarians Diana Scollard and Craig Moore worked throughout the day. Scollard moved back and forth between two operating tables, while Moore worked with his son on the dogs in a separate operating area.
After surgery, cats were wrapped in warm blankets and sent to the recovery area.
That's where 5-year-old Raina Finley held vigil next to her cat, Blacky, who was just out of surgery.
"This little kitty is almost awake," said Finley, who was rubbing Blacky to keep her warm and to encourage her to wake up. "It feels like it's been an hour. But my kitty is doing pretty good."
Blacky is a "really nice" 2-year-old black cat with green eyes and a short tail. She likes to chew her cat toys and often sleeps with Finley or her brother. Blacky's mom was spayed Saturday, too, as were three tiny kittens from another recent litter delivered by Blacky's mom.
"I'm glad she got fixed or she would have had a lot of kittens," Finley said.
By early afternoon, about 78 surgeries had been completed. 
Task Force Coordinator Sheila Thomas said they expected to get through 100 cats by the end of the day, preventing the birth of thousands of homeless animals.
From Lake Sinclair Animal Society, British Columbia:   "We showed a video of the MSNTF activities at a roundtable meeting we held during the spring clinic.  Your inspirational work was showcased to about 30 representatives from animal welfare groups across northern BC.  As a follow-up we wanted to send each group a copy of the DVD/CD, hence our order!"